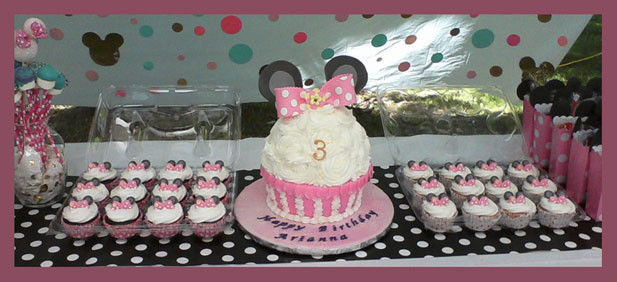 Now operating in the Gibsonville area and serving the surrounding Piedmont Triad area.
Thank you for visiting
Cake Designs by Fran.
Thank you so much for visiting, and I hope to hear from you soon so we can get started with planning your baked party item orders for 2023.
Have an awesome and blessed day!
Fran
Your cake decorating Diva!
All new items will be posted on the website, as soon as possible. All items can be
enlarged simply by clicking on them. Be sure to check out all the other item pages, as
well.
I know some of you don't use Facebook, so the GUESTBOOK page is for you. If you've been wanting to leave a comment, but couldn't for this reason, please click
on the Guestbook tab and leave your comment, no Facebook needed.
New Email Address! Cake Designs by Fran has a new email address. You can start sending your email requests to this email address:

ATTENTION ALL SITE VISITORS
I'm updating my order requirements to $125 minimum. See Cake Pricing Info tab for more information. Pricing details can be found on the New Customer Paperwork tab, on the Cake Information - Deposits, Payments, and Cake Breakdown Information pages.

I price my cakes based on the current price of ingredients. NO, I don't charge you the full price of a bag of sugar, flour, or carton of eggs or egg whites. I have an Excel spreadsheet app that figures out the cost based on the amount of each ingredient needed for each recipe, being either a portion, or the entire box of cake or pudding mix, for example. The entire box is charged at full price. If I use a portion of a box, it is charged accordingly, as in, if I need a little more batter based on cake pan sizes used, I will portion it out accordingly.

With that said, if I was to charge you what the formulas figure is the price of the cake, buttercream, etc., I would only be recouping the price of the ingredients. I would receive no income, nothing to cover the expense of equipment use, tools, electricity for baking, oven, and hot water use, and my time and effort in working on creating you order. Plus, cleanup expense, as well.

So, with that said, I take what the app has figured for each recipe total and multiple it by, just as an example - 5.5%, to cover my costs and income.
Yes, I do deserve an income just like you do at your job.
You may have also reached my website by way of www.gvmecake.com. You are in the right place. WELCOME!

I have added the Cake Pricing Info page to help you in determining the kind of cake you want to order. Ignore the decorations that are on them, as your cake will have different decor, unless you want a cake that looks just like one of them. Four (4) different sized cakes, each with a description telling you the starting price, and where to find the additional items that will increase the price of each. Take a look and start planning for your cake requests accordingly. Thank you for stopping by Cake Designs by Fran.