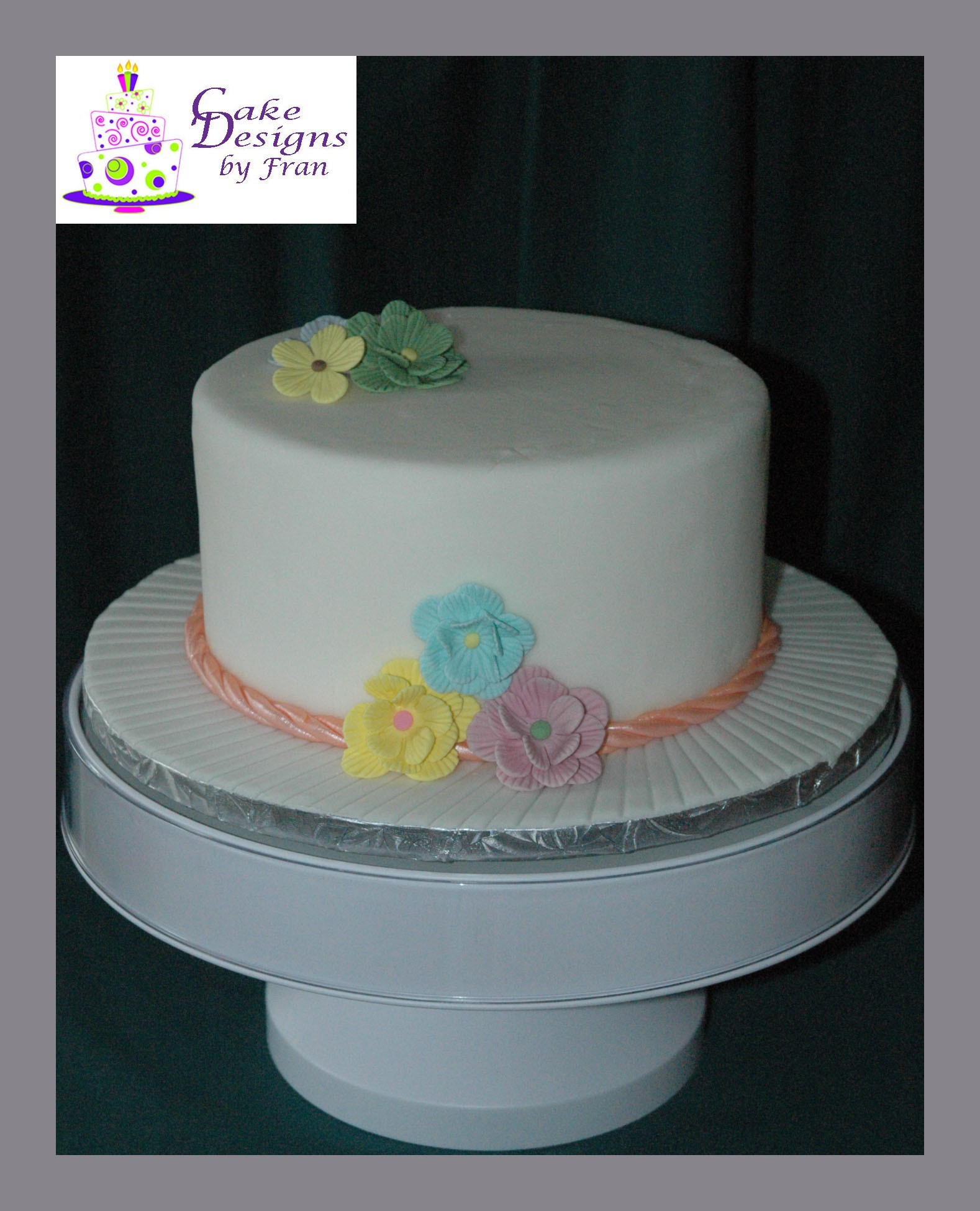 Option 1 - This single tier 8" round, serving 24-26 guests starts at $75.
Filled and iced with buttercream (BC).piped BC borders, flowers, and your selection of a white, silver, or gold cake drum.
No fondant on cake, cake drum, as a border, or for flowers.
BC flowers (3 at most) piped on the cake, and you can select the colors. Also, salutation is included using one of the flower colors. Additional flowers can be added for a cost increase.

Option 2 - Starting with this same cake at $75, if adding homemade marshmallow fondant, increases to a $95 starting price; i.e.: cake, buttercream & fondant.

Prices increases for both cakes when you select additional decorating items from the Request A Quote tab.

Various fillings are available as described in the New Customer Paperwork emailed to you, and available for selection on the Request A Quote tab. This will also increase the price, accordingly.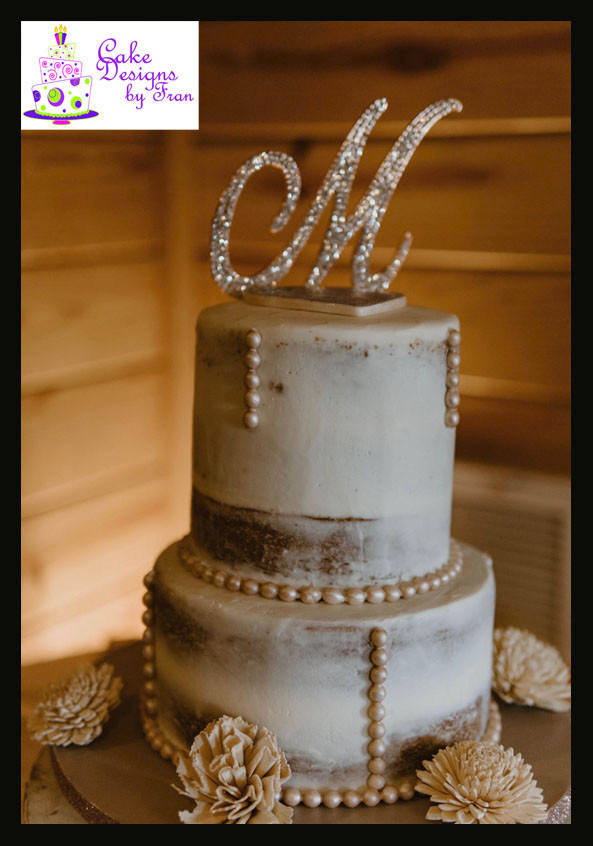 This 2-tier cake, 6" & 8" rounds, serving 38-40 guests, starts at $145.

Filled and iced in buttercream (more or less icing on outside). Also, it has a 2-layer 8" bottom, and a 3-layer 6" top tier.
You may want your cake with tiers similar and starting price will be adjusted accordingly based on more or less cake batter and icing needed, and, also, height of each tier.

Prices increase based on your selection of one or more of the items listed above. As you can see, this is a buttercream cake with the naked cake theme and some fondant elements included. The "M" and flower decorations were added by the customer after pickup. The Heart shape on top I added as requested in the initial order details, and unfortunately, didn't get a picture of it. However, you can see it under the "M".

Increase in price follows the same details as in the single tier cake above. See the New Customer Paperwork and make your selections from the Request A Quote tab.
This 3-tier cake, 4", 6", & 9" rounds, serving 30-34 guests, starts at $262.

Filled and iced with buttercream., Price increases according to your selections of decoration on the Request A Quote tab.

This cake being 3-tiers would typically be for a wedding cake. However, some birthday cakes may also require 3-tiers based on the design requested and number of guests. Cake tiers may be adjusted by one layer or more layers based on servings required and design space needed, at discretion of decorator.
Design adjustment tiers may be in these pan sizes: 4", 5", 7", 9", as needed. You will be sent a design idea to approve before with the quote.

This 4-tier cake, 6", 8", 10" & 12", serves 130 - 134 guests, starts at $506.

Starts with buttercream for filling and icing only.

This cake has multiple elements requested for the cake. Ribbon, beads, and fondant; however, the cake topper and flowers were waiting at the event and I added them once I got the cake stacked. The bottom 2 tiers were stacked and boxed, the other 2 were in individual boxes. Adding the cake topper and flowers was relatively easy as they were limited to the top tier.

The price increased with the addition of fondant, beads, delivery fee, and completion of the cake, upon delivery.
I hope this helps you with determining the price of custom cakes. When you request a custom cake, there are typically multiple colors of either BC or fondant needed to complete your order from the starting prices stated above. Multiple colors and shapes; etc., adds additional time and cost to the price of your order. When you decide to order a cake, please keep this information in mind when you are looking for a custom cake.
NO out of box or container fondant or buttercream, as I make both from scratch. As for the cake, it may or may not include a box cake mix starter or pudding mix based on whether you want a very moist or not so moist cake. Choose your option on the Request A Quote page.
Themed cakes are generally more expensive than a not so pleasing sheet cake with plastic elements on it for your young one. Although, I can make a sheet cake with plastic elements on it if you desire. Cost will include purchasing of the plastic elements for your cake, unless you have or a planning to purchase the element. In that case, you will need to get them to me so that I can decorate the cake around them.
A 2 month notification, ahead of date needed, with deposit to set the date, is needed to plan and design your birthday party or event cakes request, and gives you the option of a deposit and 1 or 2 payments to breakup the cost to help you out if you really want a themed cake for your little one. It also gives me time for designing, purchase any necessary items like a cake pan or flower cutters which can also be used for cutting out fondant for decoration on your cake, or for cookies you may want as an added part of your order.

Contact me TODAY for your event/birthday party if it is 2 months from now and beyond. Also, keep in mind that you have an event later in the year and put it on your calendar with a reminder to contact me 2 months beforehand to start the planning stage. Feel free to contact me sooner if you desire. A $50 deposit will set the date for you order and I will start the planning and design for your quote. It will include the $50 deposit as paid.

If it is for a wedding, 6 months or more beforehand is the recommended request and deposit time.
All mobile phones should have, or you can download, a calendar that you can use to set up notifications with coding colors available for different notifications, so by all means, please use it to remind you to contact me for either type of event. I definitely use mine for everything, including your order due date, time, and pickup or delivery.
Thanks for visiting my website! I look forward to hearing from you soon.
Fran
Cake Designs by Fran